Lip Filler in Istanbul – Turkey:
Achieve Fuller, More Youthful Lips By Dr. Çiğdem Özden
Lip filler, also known as lip augmentation, is a cosmetic procedure aimed at enhancing the appearance of your lips by adding volume, shape, and structure. One of the most popular types of lip fillers is made from hyaluronic acid, a natural substance found in the body. Hyaluronic acid fillers can improve the appearance of your lips by adding volume, correcting uneven lips, lifting the corners of the mouth, defining the Cupid's bow, enhancing the lip border, and smoothing out lip lines and wrinkles. Although there are many types of dermal filler materials, hyaluronic acid fillers are among the most preferred one because of their low complication rates. Beautiful lips signify youth, health, and sexual attraction. Thanks to aesthetics, it is possible to have curvy lips suitable for the golden ratio. Lip fillers are a popular beauty treatment that can help you achieve fuller, more youthful-looking lips. If you're considering lip fillers, it's important to consult with a qualified medical professional to discuss your options and determine if this treatment is right for you.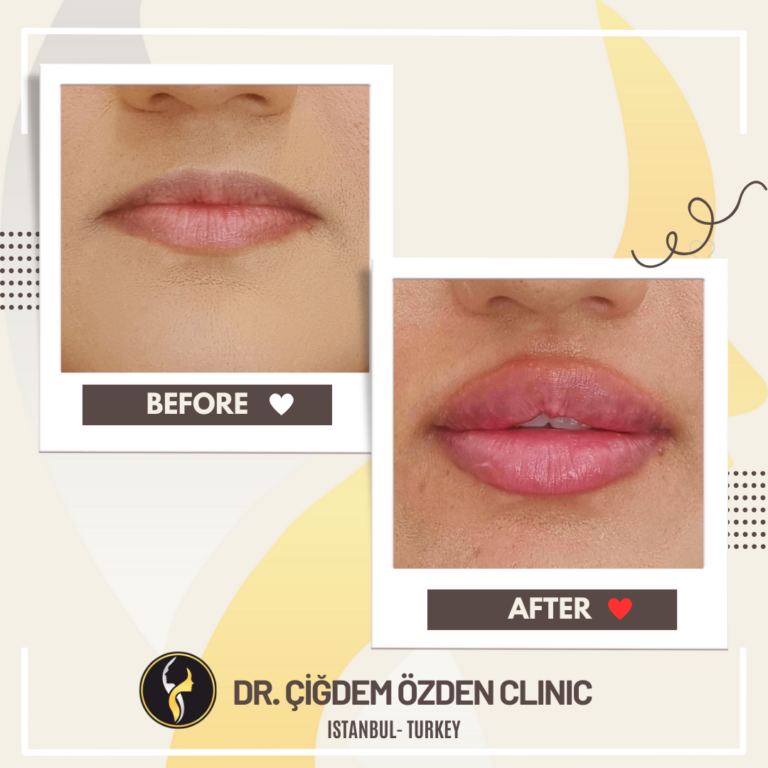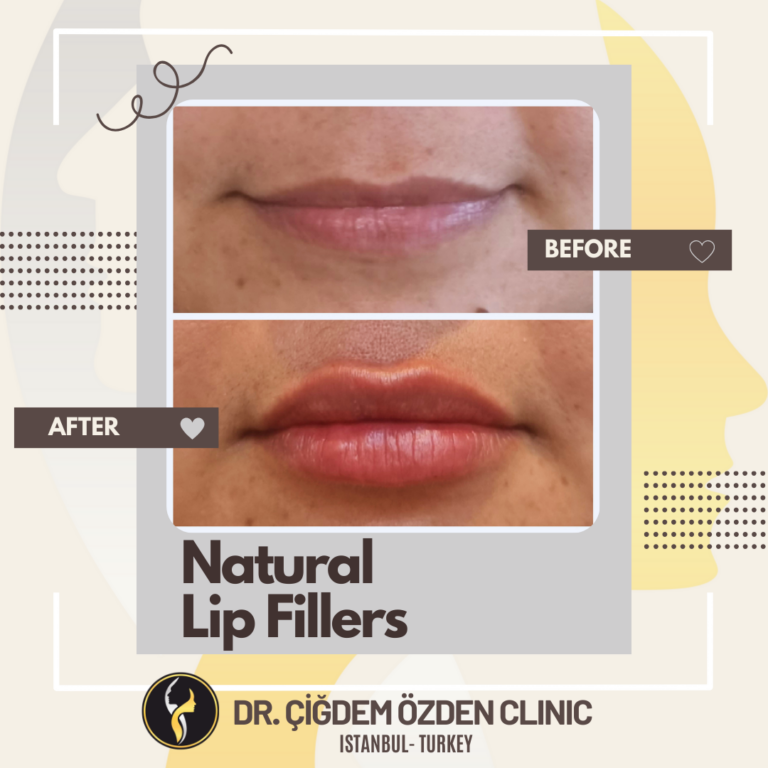 In lip augmentation procedures, the doctor will first evaluate your facial appearance and skin tone. Then they will proceed with examining the areas of your face to be enlarged. Strategic points on your face can be marked as suitable injection sites for lip injection. At the same time, pictures of the areas to be treated can be taken. Then, injection sites will be cleaned with an antibacterial agent. Although the procedure is not painless, pain is generally easily tolerated. The lip injection usually takes only a few minutes per square centimeter. After that, the evaluation process is carried out and additional filler is added as needed. Depending on the number of areas, the entire process can be as short as 15 minutes.
How much does lip filler cost in Istanbul - Turkey?
If you are interested in lip augmentation, you might be wondering about the cost of this procedure in Istanbul, Turkey. The price of lip fillers depends on several factors, such as the type and amount of filler used, the expertise of the injector, and the location of the clinic. At Dr. Cigdem Ozden's Clinic Istanbul, we offer high-quality lip fillers from reputable brands such as Juvederm, Teosyal, and Restylane. The average cost of lip filler injections at our clinic varies depending on the product and the desired result, but it's usually around $180 to $250 per syringe. Some patients may prefer a more subtle and natural look, while others may want a more dramatic and plump look. This will affect the number of syringes needed and the final cost of the treatment. If you want to know more about our lip filler prices, please contact us for a free consultation. 
Contact Us Now For a Free Consultation
Get a quote and free consultation for lip fillers from our expert doctors!
How long does lip filler last?
Lip fillers can last from 9 to 18 months, depending on the type and amount of filler, the treatment area, the metabolism and lifestyle of the patient, and the skill of the injector. To prolong the results, follow the aftercare instructions, use sunscreen and moisturizer, and stay hydrated.
The Truth About Lip Filler Pain
The pain may vary depending on the doctor's medical expertise and experience. In addition, pain tolerance plays a crucial role. The lips are very sensitive and the drilling process will feel like a sharp pinch without an anesthetic that contains lidocaine or numbing gel. Anesthetic injection or numbing cream should be used to reduce pain.
Can we see instant results?
Generally, after the lip filler procedure, there is a little swelling on the lips. The application of ice both removes the possibility of wound or bruising and provides the reduction of swelling. Approximately 24 hours after the lip augmentation procedure, the filler settles down into its place and you can see the result of the procedure.
Lip Filler Recovery Period
You may observe some swelling on your lips after the procedure. Also, there might be some small red spots where the needles were injected.
Bruising is another common side effect that can last for about a week. At the same time, your lips may feel different after the procedure due to the presence of filler.
farahnaz ebrahim
2023-06-16
Fantastic experience! I sent the clinic a whats app message for an appointment, they responded immediately and was able to help me. Dr is a wonderful lady who gives you excellent advice and doesn't try to push more things on to you for making money. Painless experience and clean and so helpful. Highly recommended. I will definitely come back here if I'm in turkey
I did trades And the resolts amazing.
I had the pleasure of meeting Dr. Cigdem Ozden today. Words can't describe how amazing she is. She is very kind & gentle.Dr. Ozden only gave me what she thought was necessary. She also gave me medication for swelling & cream to take home with me.The communication aspect was perfect! She is very accommodating.Will definitely come back! By far the best experience
Professional, honest and straightforward Consultation before the procedure, a good advice on what procedures can benefit or suit you best. Good spoken English and friendly atmosphere. Highly recommended
I have visited her clinic a few times already she's a very nice and great person. I'm very happy with the results. I can definetly recommend this clinic to everyone.
Dr Cigdem very knowledgeable and professional she made an excellent job for me jawline and lip filler and her Assistant is amazing as she calms me during the procedure I definitely visit you again Thank you from the bottom of my heart
Sevgili deneyimli dr çiğdem Hanım yaşımı korumam konusunda doğal görünümümden ödün vermeden doğru dokunuşlar yaparak yıllardır beni güvenli ve mutlu ediyor teşekkür ediyorum ve tek tavsiyem *
I've been doing my research very good and how im happy I did it. I've found this incredible women. Not only that I'm extremely happy with how my lips look but also I've had a great time. When you come in the clinic you gonna be offered with coffe or tea. It's such a nice and warming ambient. When I went to do my lips,nurse hold my hand thru all the procedure. I've felt so calm and welcome. I would recommend this to anyone,and next time in Turkey I'm 101% going again!
I recently took a trip to Istanbul and I have to say this was my best experience there yet! Dr Cigdem was an absolute gem! I called to see if I could make an appointment and her and her team squeezed me in same day! I couldn't be happier with the results. Dr Cigdem, blessed me with a much more proportionate face and lips, I would highly recommend her to anyone who asks, her and dream team were so kind and hospitable, I couldn't have imagined a better experience, I look forward to my next visit to Istanbul, as well as seeing her and her lovely team again!! Thank you so much Dr Cigdem, see you soon!!!😊
Friendly and professional.Amazing experience…… if you visit Istanbul she's the best 🤍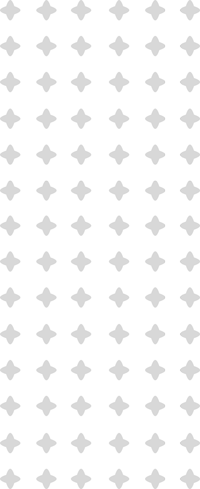 Frequently Asked Questions
About Lip Augmentation
Getting lip injections in Istanbul – Atasehir
Get a free consultation and quote!